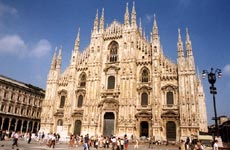 Milan Cathedral
In this area another factor has made this stone important both with regard to extracting and to the diffusion of the product: during Medieval stone materials, essentially marbles, could reach places like Milan and Pavia, where they were highly desirable to create ornaments. The transport was quite easy: by waterways. (Toce, Lake Maggiore, Ticino, Naviglio (Canal).
Pinauda in 1928 gave this definition:
"The Milan Cathedral, one of the wonders of the modern world, is nothing but a mountain made of ossolano marble artistically carved".